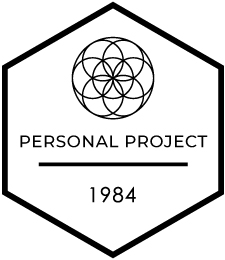 Hi-five to the Simple Life
We're using our concept "Hi-five" to help fast forward the continuing evolution of this thing we call life. To bring about some sort of change in the world, however small that may be. We believe that in order to bring about real change we must start with ourselves, and begin with the way we view the world around us. We must change internally before we can change physically.
This project is called "Hi-five to the Simple Life" and it's designed to promote the simple joys in life that bring us true happiness, like a good cup of coffee or a bike ride with your friends. So Hi-five to coffee and Hi-five to bike rides. As this project evolves over the years, we will start promoting larger concepts like renewable energy and daily spiritual practice, things that we feel need to be in the forefront of our minds.
We believe that by promoting the idea of what life could be and should be, hopefully we will begin to slowly shift our mindset towards a positive, more resourceful state, rather than focusing our attention on the bigger better now. It's time to slow down, take a deep breath and have a good conversation with a good friend over a good cup of coffee.
There is no goal for this project nor is there an end date. This is and always will be a continuing effort to learn and to grow.
To get involved in this project and start impacting your community, please contact us at (719) 210-8384 or email us at me(at)hi-fivedesign.com
For the past six weeks I've been working on getting my private pilots license over at Freemont County Airport near Canyon City, CO. We're flying a 1970's Cessna 172. My instructor is Mike Dulaney, former Sheriff in Jackson Hole, WY. With over 4000 hours of flight time, Mike is an amazing instructor. Not only is he incredibly knowledgeable, but because he's an older gentleman, he has the patience to put up with all my f-ups in flight! So thanks to Mike for working with me and helping me achieve a life long dream.
Flying is quite an expensive hobby, and for me that's just what it is. I have zero intentions of flying commercially. I really just want to take my friends and family up with me, and my 90lb Rottweiler Tangerine of course. As a freelance designer/artist, I don't really make that much money. Any knows as a freelancer, some months are good, some months are really really bad. The difference is I spend my money wisely and I figure out how to make it work. I didn't have $8500 laying around to spend on a pilots license, so I pay as I go. I fly one to two times per week, depending on the weather. At $140 per hour for the plane and instructor, flying three hours per week adds up really quick.
My fiance and I are currently in the market of purchasing a home. I made it crystal clear that I'll start saving for a down payment on a house as soon as this license is done. Priorities ya know! I mentioned that buying a plane and a hanger was cheaper than a $250K home, but she didn't go for it. Oh well, I tried.
With that said I want to address the importance of seeing your dreams through. Not just to boost your confidence having accomplished a goal, but that feeling you get from a truly genuine smile of pure happiness. It makes all the hard work and effort worth it. So if you want something in life, don't make an excuse, don't wait until the perfect moment when everything falls into place. Because it never will.
JUST FUCKING DO IT